Continuing with the catch up!
Eurocup
Soccer, or 'football,' is a pretty big deal here. And by that I mean it's outrageously popular and everyone is obsessed, haha. As such, when the Eurocup started a couple weeks ago, it was a big deal. Although I'm not a big soccer fan, I do enjoy experiencing the excitement and obsession the British here have for it! Last week England played the Ukraine and so I went with a few friends to a pub to watch the game. That's apparently what everyone does because it was PACKED! Barely room to stand, everyone was completely enraptured. I spent the first half standing in the pub and the second outside talking to some friends we had made. Even though neither team scored, England eventually pulled out the win through penalty shots! A few days later they played Italy in the quarter final and did not win. I wasn't able to go watch that game, but I did see Spain v Portugal this past week. I personally rooted for Portugal because they were definitely the underdogs, but Spain won in the penalty shoot out as well. Tomorrow night is Spain v Italy and I'm sure I'll go see that one as a last shot to enjoy English football obsession. =]
Exploring London
In my time here, I've tried to explore the city as much as possible. I went to the Tate Modern last week, which is a huuuuge contemporary art museum near South Bank. It was free, which was awesome especially since Madeleine and I didn't even make it through the whole thing before we were too tired to continue. We are going to go back later and finish looking around for sure. 
One evening Madeleine, Alli, and I got some sushi to go and went to eat it at Hyde Park. Hyde Park is the biggest park in the city and it was really cool to just have a little picnic in the biggest city I've ever been in. We decided to just walk around afterwards but didn't want to stay in the park, so we wandered the streets as it started to get dark (which is SO late here! Dusk is like 9:45/10 o clock!). We ended up in the verrry swanky part of town, amid ferrari dealerships (which are inside buildings?) and gallery openings. It was fun to be so underdressed and see how the other side lives, basically, haha. A Marc Jacobs here, a porsche dealer there, it was nuts. We also passed the Royal Academy of the Arts and they had some exhibits going so we decided we'd definitely have to come back and see it when it was open. 
Wimbledon
Yesterday morning Madeleine and I got up and headed over to Wimbledon! It is actually pretty far away - south of London. The tube does go there, but only just, and then it's a fifteen minute walk. We had tried earlier in the week but when we got there were told it was a four hour wait, which put us at 5 o clock. We had a 7 o clock show (Billy Elliot!) and so had to turn around and come back. But we planned for yesterday! Wimbledon has tickets you can buy for specific seats in Centre Court and Courts 1, 2, and 3. Or, you can buy a Grounds ticket for 20 pounds and grab unreserved seats in courts 4-19 when you find them, but bigger names tend to not play there. However, they have a huuuuuuge TV screen on a hill that shows big games so you can watch them there as well. When we got there, the 'queue' as they call it was in full force - 4 hour wait.
That picture is right near the end of our wait, and it was indeed almost four hours. But, it was also TOTALLY worth it! Once we got through security, we were at Wimbledon!!! The first thing you see is the big chart below so you can decide where to go and watch a match. We spent some time at courts 14 and 16 - we didn't get seats but you could stand on the backside of 15 because no one was playing and see over into the other courts. We saw the Bryan brothers kicking some butt and a couple other matches. 
After a bit, we checked the schedule again and saw that Petrova was schedule to play in court 3 soon. Most of court 3 is for ticket holders only, but they have one corner than is open to grounds tickets - you just have to wait until there is an open seat. We headed over, saw the line was 30-45 minutes, and decided to stick it out. A men's singles match was going on and people filtered in and out pretty well until the end. When a steward walked out and said it was the fifth set and they would be done, I was pretty excited. We were first in line by then! The men finished (with another upset - yeah!) and people started filing out. A lot of people. They let us in and we got some great seats! Petrova and Giorgi came out right away and they were at it! I heard that Giorgi was pretty new and people were talking about how she had made it to the 3rd round. So pretty much instantly I wanted to root for her.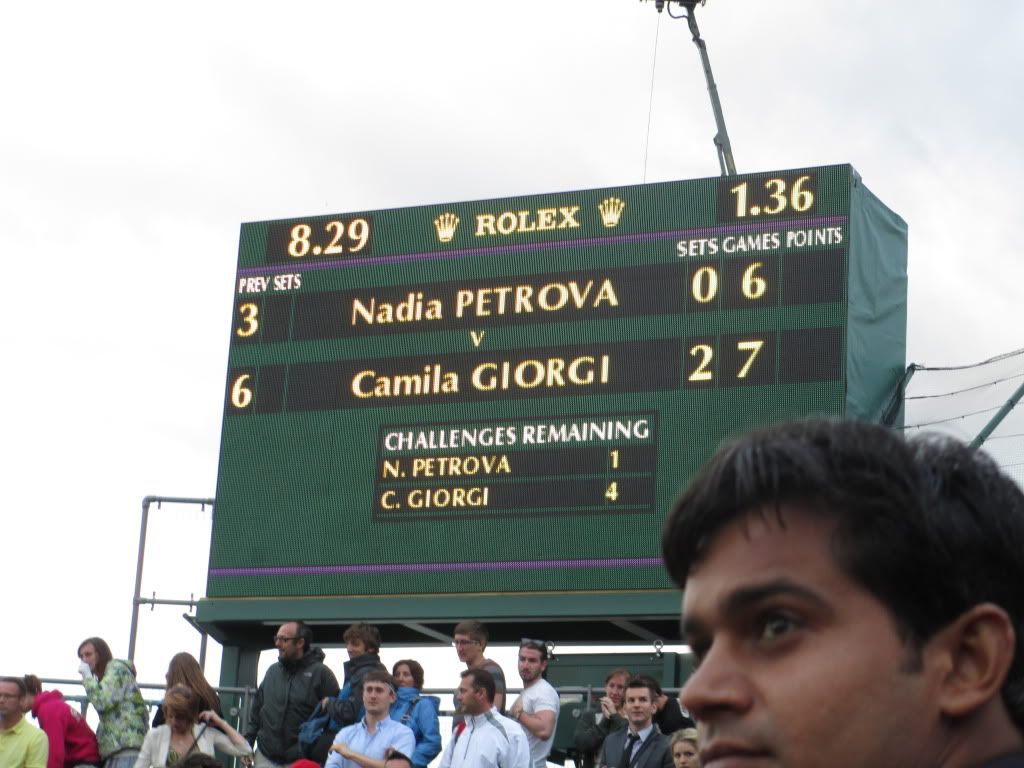 They were pretty well matched. Giorgi won the first set 6-3 and then on to the second. Petrova, then Giorgi, then Petrova won 4 in a row. So it was Petrova 5, Giorgi 1. I wasn't feeling to hopeful, but the next thing I know Giorgi is kicking butt (and Petrova lost it a little - not doing so hot) and it's pulled back up to a tie!! They go back and fourth, make it 6-6, into the tie breaker, and are constantly getting the upper hand and losing it. Everyone was getting really pumped and excited - if Giorgi won this set she won the game and continued on. Eventually, that is exactly what happened! It was pretty awesome. I'm excited for her to continue, but she's next playing the 3rd seed and so I'm not getting my hopes up too high. =/
From our seats we could see the scoreboard for Centre Court. Federer and Benneteau were playing  - Federer is apparently really good, but Benneteau stole the first two sets no problem. They were in the third when our game finished, so Madeleine and I headed over to the big screen to watch the end. What we saw was basically a repeat of exactly what we had just watched with the girls! Tied in the set, vying back and forth for the lead in the tie breaker. Federer ended up winning, so then they were tied 2-2 and had to go to the last set. At that point I was beyond freezing, so I decided to go find the Wimbledon shop and buy a sweatshirt. I really wanted one anyway and didn't want it to be closed when the game finally finished. Madeleine stayed to watch the last set. However, at the shop they only had one sweatshirt - 135 pounds. No freaking way man!! That's over $250 and I'm so not okay with that. So instead I got myself a little pizza for dinner and started back to the screen. The next thing I know a older man in a suit holds out a piece of paper to me and says, "I'm leaving, if you want to watch the end of the match, here's my ticket." I was so taken aback, and 95% I had heard him wrong, I just stared and said, "… what?" "Federer," he responded, "if you want to watch the last set of this game you can have my ticket, I am leaving." WWWHHHAATTT?!?!? Those tickets are 71 pounds (still cheap compared to next week) and this is a pumped up game with a famous player! I couldn't believe it, but I'm assuming he wanted to beat the huugge crowd that would be leaving soon. I called Madeleine and told her to meet me at gateway 206 asap. She wanted to leave and beat the crowd as well, but I told her I had a free ticket and she needed to use it. She used to play tennis and has been so excited all week to come to Wimbledon, said it's been her dream since she was 8. I didn't know it was even going on until I got here, so I knew she should definitely be the one to watch the end of the match. They only let you get up and move in between sets so she didn't think she'd make it. We got to the right entrance and sure enough a rope was up in front of the stairs, but all the security was standing at the top watching the game! She climbed over the rope and watched over their shoulders - just catching the last winning point of the game. Federer won! It was all so crazy and unbelievable, but a really cool opportunity. Even without the last bit, watching the whole Petrova and Giorgi match was awesome, so that was just a great bonus. I want to go back later this week if we can, so hopefully I'll have more stories then!
Tomorrow I'm going to an Evensong service at Westminster Abbey and then watching the Eurocup final. Friday is the HP Studio Tour! Stonehenge/Bath was today, but I can't get the pictures off the camera except at school, so I'll have to do that Monday. I'm sure I'll have lots more to say this week, definitely updating more regularly!